7-Piece Oval Extendable Eucalyptus Wood Patio Dining Set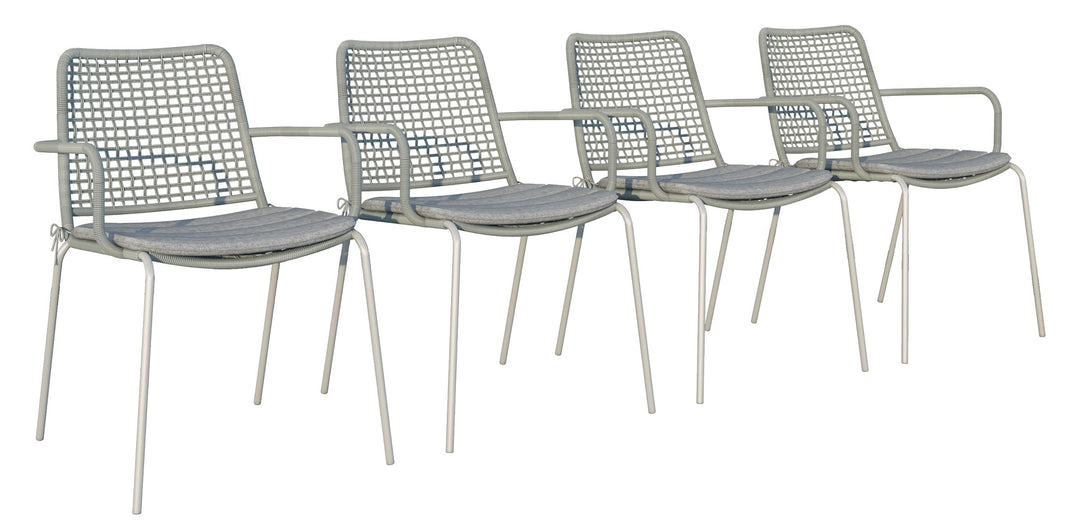 ??íThe Amazonia 7 Piece Extendable Oval patio eucalyptus dining set enhances the natural beauty of any outdoor dining area. Gather all your family and friends because this outdoor eucalyptus dining set is capable of seating 6 people! It is the perfect addition to your patio because everyone can dine in luxury together. The eucalyptus wood is the perfect match for existing outdoor patio furniture and will give your backyard the class and elegance for outdoor dining. This set combines luxury, beauty, comfort, and an affordable price. The gray chairs contrast with the brown wood adding a modern, urban feel to The Amazonia patio eucalyptus dining set. Designed under a modern influence these chairs are durable, lightweight but also sturdy. Frame is made of high-quality steel with a matte finish with a rope seat. The table is made of premium Eucalyptus wood. This contemporary set is primarily designed for outdoor purposes but can also be used indoors giving your home a modern touch. Made of the highest quality materials, the outdoor patio furniture is meant to last you for summers to come. The 7 Piece set includes 1 extendable dining table and 6 chairs.
Table: 62L x 35W x 29H. Extended Length: 82. Chairs:27L x 22W x 33H. Seating Dimensions: 16L x 19W x 17H. Max weight capacity: 250 lb per chair
Product Material(s) - Eucalyptus, Steel, Rope
Not 100% satisfied with your purchase from Envelor? We are sorry to hear that and with your satisfaction as our priority, we would like to help you resolve this. Please reach out to us here. You may return or exchange any items, including sale items, within 14 days after purchase. Returns must be unused, with the tag in the state you received them. Once we receive the item, the credit will be processed in 4 business days. It may take a few days to reflect on your account. Any questions? Contact us here
QUESTIONS? COMMENTS? NEED A TIP? WE HAVE ANSWERS.
At Envelor Home, we work tirelessly to make our customers happy. We are here to help. Please use one of the options below to get in touch with us.
Write to Us: support@envelorinc.com
Give Us a Call: +1 (732) 387-3569
Our Customer Service Team Is Available:
Weekdays: 8am - 5pm EST